In This Article:
Related articles:
---
Advanced Mode allows you to configure your settings to match your campaign strategy and goals. You can now create separate rules for individual campaigns or groups of campaigns, and block an IP address on the campaign level, meaning only for the campaign that was triggered.*
When this feature is disabled, the threshold rules set will be applied on the account level, meaning across all of your campaigns.
---
Note: Advanced Mode is applicable only for Google Ads campaigns. If you're using both Google and Facebook Ads set your Facebook Ads click fraud threshold on the main Click Fraud Threshold view, and then enable Advanced Mode to apply the campaign level threshold rules for your Google Ads campaigns.
---
How to Use Advanced Mode:
To enable this feature, log in to your dashboard Domain Settings Manage Detection Rules and toggle on Advanced Mode: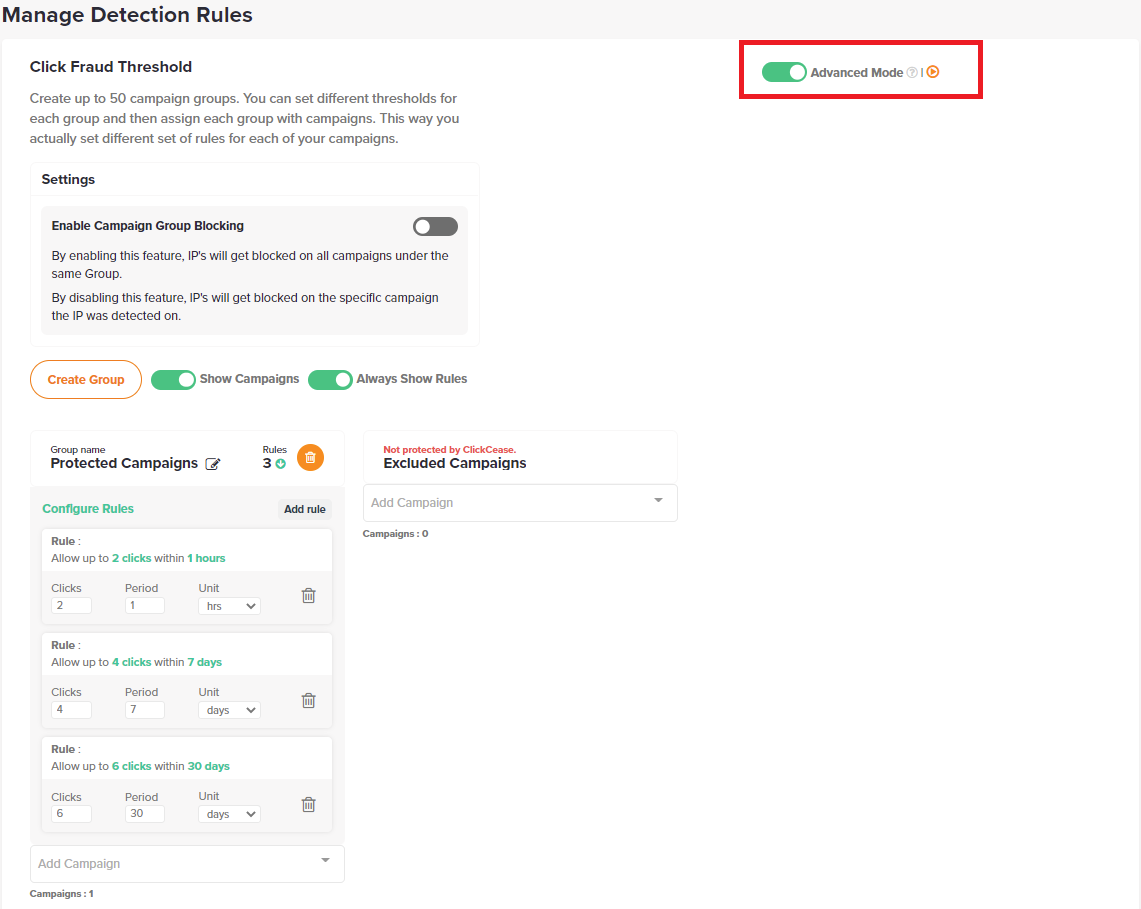 Let's use a practical example to understand Advanced Mode better:
Your account has two different campaigns, one for US clientele and the other for UK clientele.
If Advanced Mode is disabled and a certain IP triggered the click-fraud threshold on the campaign for the UK clientele, that IP address will be added to the IP exclusion list of both of the campaigns on your account. However, if Advanced Mode is enabled the attacker's IP address will be added only to the UK campaign exclusion list.
Campaign Group Blocking:
When this feature is enabled, IP's will get blocked on all campaigns under the same Group.
By disabling this feature, IP's will get blocked on the specific campaign the IP was detected on.
Managing Your Campaign Groups:
A. Create a New Campaign Group:
To create a new campaign group, click on the Create Group button (you can create up to 50):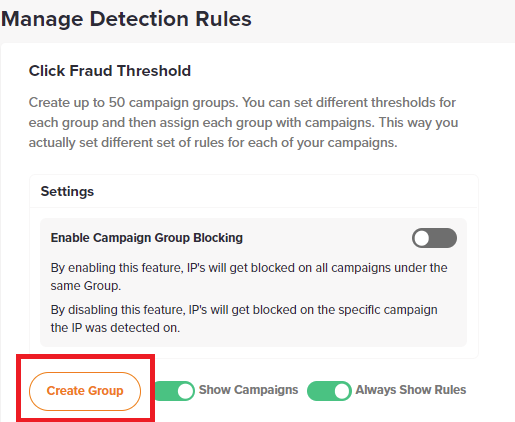 Each group can have a different set of threshold rules, and you can configure those settings to match your campaign strategy and goals.
B. Renaming a Campaign Group:
You can name each group based on the type of campaign it is (brand, search, re-marketing, competition, GDN etc.), or per any other method you'd like. To edit, click on the pencil icon next to the group's name.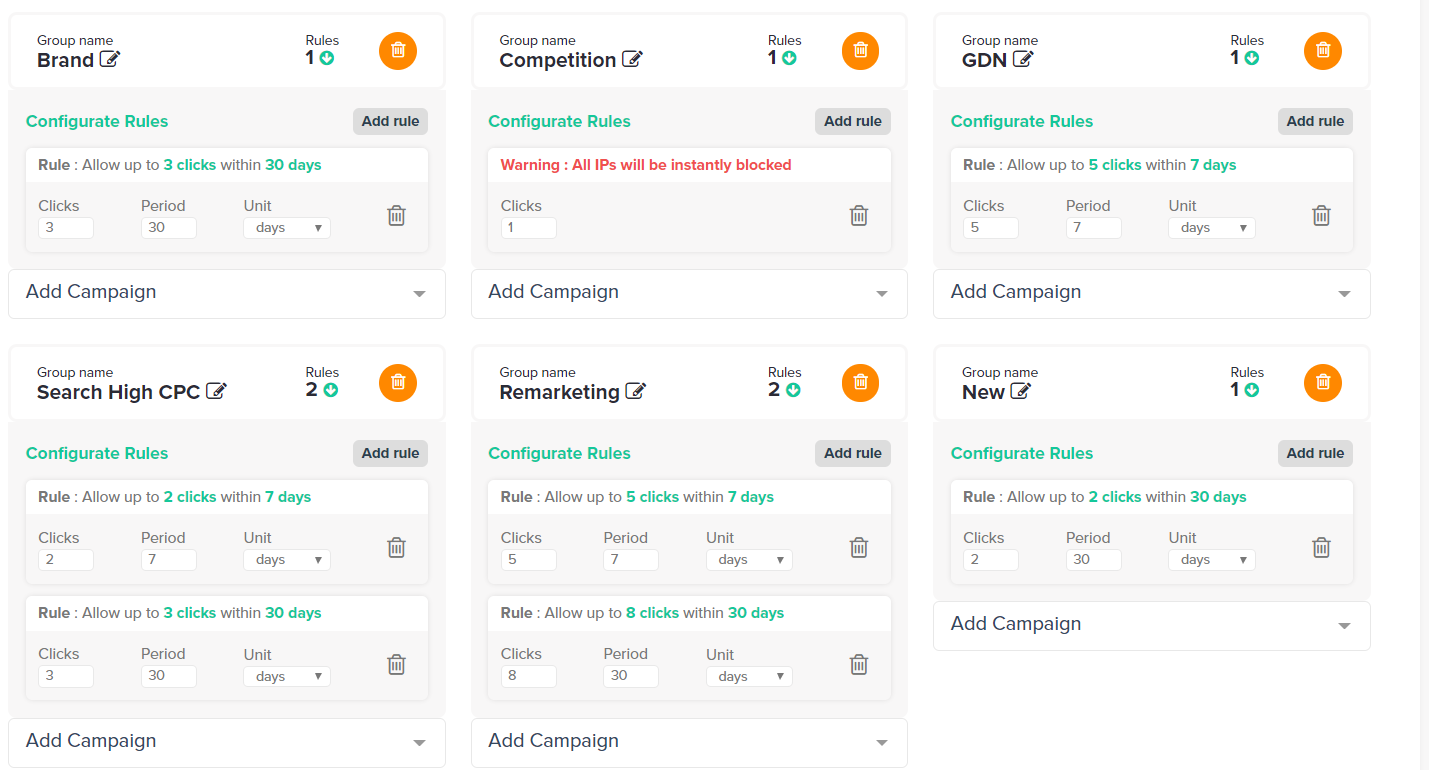 C. Add Campaigns to a Group:
At the bottom of each campaign group, you will find the "Add Campaign" drop down menu, which allows you to add the desired campaigns and have the protected with the rules set.
Each group can have up to 5 different threshold rules, click on "Add Rule" to add more.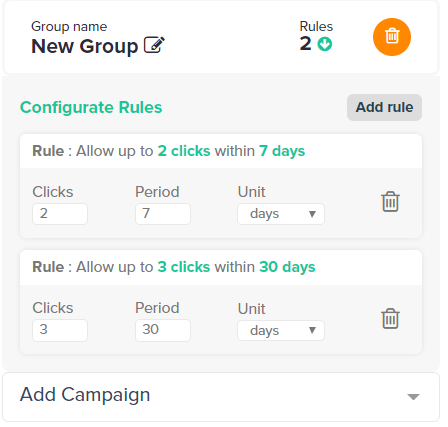 D. Excluding Campaigns:
You can exclude a campaign from being protected from fraud by adding it to the "Excluded Campaigns" group (not recommended).

Saving Changes and Refresh Campaigns List:
To save the changes you did, click on the Update Campaign Groups button.

To refresh your campaigns list, click on the Pull New Campaigns button.

If you have any questions about this process, feel free to reach out to our 24/7 chat support.