In This Article:
Related Articles:
---
The Main Dashboard:
At the top of the dashboard, you can select the Domain view, select the data presented date range and refresh the dashboard's view.
Note: If you are managing more than one domain in Bot Zapping, the default view will be of All Domains.

Summary:
Here you will see a review of the traffic detected on your domain:
Total Valid Visits: the total number of valid visits that reached your site, after excluding the bad bots and invalid requests. These visits represent real users interacting with your site, and do not include known crawlers.

Bad Bots & Invalid Requests: the total number of invalid traffic requests that reached your website and got excluded.

Known Crawlers: those are the good bots that visited your website, and were not excluded. Those crawlers perform a helpful or useful action and don't hurt the user experience on your website while doing so.

Insights:
Total Visits Breakdown: a presentation of your traffic summary per day - total number of Valid Vitis, total Bad Bots & Invalid Traffic, and total number of Known Crawlers detected.

Invalid Traffic Breakdown: a presentation of the invalid traffic breakdown per day - total number of Invalid Page Loads vs. total Invalid Site Interactions.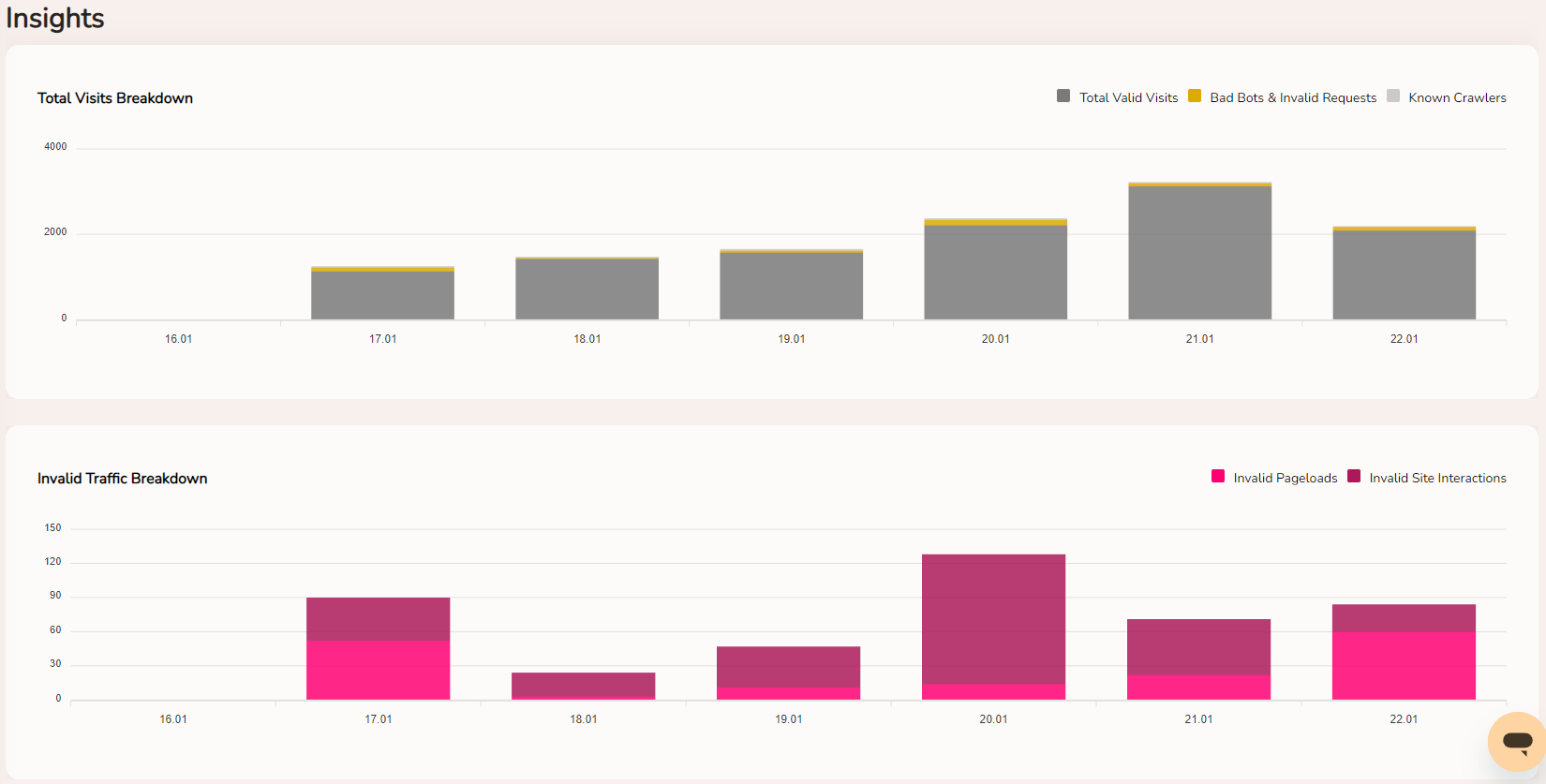 Threat Groups: Invalid Bot Activity or Invalid Malicious Activity.

Threat Types: the type of invalid activity detected on your website

Top 10 Countries by Invalid Rate: the number of invalid visits by country of origin.

Invalid Traffic Heatmap: a visual distribution or the invalid visits per country.

Detailed Report:
In this report, you can see the following data per invalid visit:

IP: the IP address used by the bot that was blocked/monitored.

Last Seen date

Threat Group

Threat Type : the type of invalid activity detected on your website (i.e. the bot's exclusion (block) reason; Scraper, Automation tool, Disabled JavaScript, False Representation, Malicious Bots).

Action Taken: the bot visit status - Blocked or Monitored Only (according to the domain status in Protection Settings).

Country

Domain

URL

Available Filters:

Filter by Threat Groups - All groups, Invalid Malicious Activity, Invalid Bot Activity.

Filter by Country - select the desired country to see the relevant report.

Click on the Download CSV button to download the full Detailed Report in a .csv file format.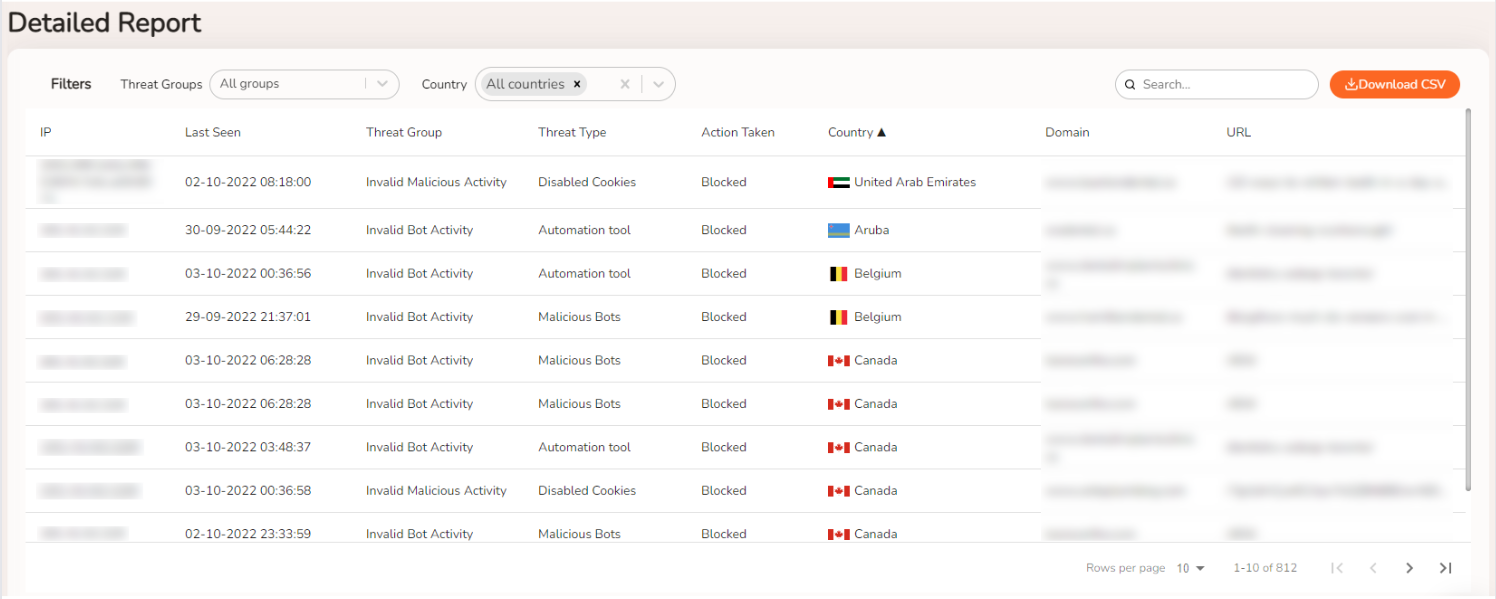 Protection Settings:
In this tab you can find your Bot Zapping managed domains list.
The options available for each domain are:
Find your domain's Authentication & Domain keys, and copy them (to be used in the Bot Zapping activation process).

Enable/Disable Monitoring Mode per domain. When Monitoring Mode is enabled, Bot Zapping will only detect the malicious bots, and not block them.

Turn On/Off ClickCease Paid Marketing protection for each domain.

Open the domain's Bot Zapping dashboard.

Delete a domain.

If you have any questions about this process, feel free to reach out to our 24/7 chat support.