The ClickCease dashboard includes a lot of data regarding each and every click from each IP.
To access the Clicks Report, log in to your dashboard Fraud Analytics Google/Microsoft/Facebook Ads, and scroll down to the Clicks Report table.
You may select which columns you wish to view by clicking on the Show columns button: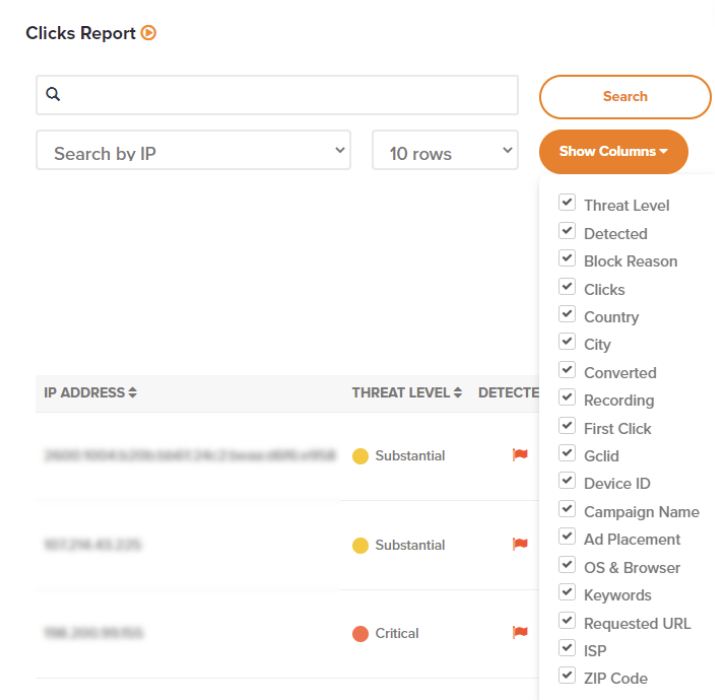 IP Address - The IP address detected/blocked

Detected - The IP address fraud detection status.

Block Reason

Clicks - The number of clicks a certain IP made on your ads in the chosen period.

Country - The Country the IP address belongs to.

City - The City the IP address belongs to.

Recording - The session recording and interactions of the IP with your landing page.

First Click

Last Click

GCLID - The unique Google Click ID assigned to the click.

Device ID - The fingerprint generated for the device behind the IP.

Campaign Name - The campaign name that was triggered by the click.*

Ad Placement - The URL of the website where your GDN ad was placed.*

OS & Browser - The operating system and browser of the user.

Keywords - The keywords that were triggered by the click.

Requested URL

ISP (Internet Service Provider)

ZIP Code
*Campaign Name: if you did not grant our MCC account access to your Google Ads account and/or not refreshed the campaign list in your dashboard, this column will remain empty. Meaning, this column is only relevant for clients protected by the standard/premium packages.
*Ad Placement: Google Ads has a feature that enables its users to advertise their product/service on other sites (i.e., not search engines). If the clicker clicks on this advertisement, he is redirected to the same landing page as if he were to click on an ad that appears through a search query. If this is the case, the URL of that site will appear in this column.
If you have any questions about this process, feel free to reach out to our 24/7 chat support.