Now that you've installed the tracking code, let's double check and make sure it's working correctly and firing properly on your site.
The Tracking Code is essential to detecting fraudulent activity, as it analyzes the sessions of your users (mouse movements, scrolling, clicks, session length) and generates a recording for you to review.
There are two wait to confirm that the tracking code is installed properly - from within the ClickCease dashboard, or using the Inspect tool.
Using ClickCease Dashboard:
Login to your ClickCease account.
Go to Domain Settings > Domain Tracking Setup.
Under Tracking Code, click on the Test Installation button (please note that this action may take a few moments):
If the installation test is successful, you will see the following message:

If the installation test was not successful, you will see the following message. In this case, we recommend to visit the ClickCease HTML Tracking Code section in our help center and/or contact our 24/7 support team via chat or email.

Using Inspect Tool:
Open your landing page in a browser.

Open the Inspect tool* and use the Fetch/XHR

Add /?gclid (for Google Ads) or /?fbid (for Meta [Facebook] Ads) at the end of your domain's name (example: myurl.com/?gclid) and click Enter.
The statsV2?type line is your indication that the tracking code is firing properly.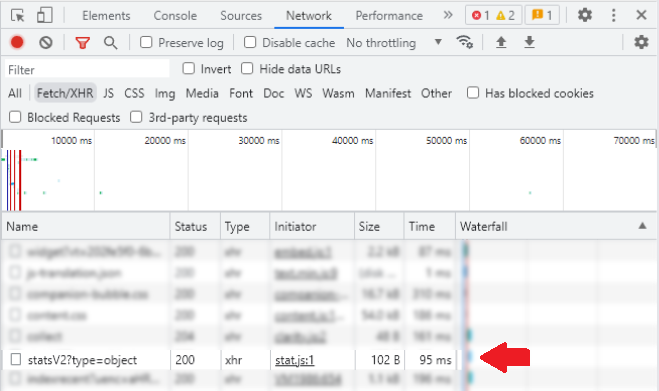 How to Open the Inspect Tool On Your Browser:
Right-click anywhere on the webpage and choose Inspect.

Press F12/Function + F12 on your keyboard (or Command + Option + I for Mac users).

In Google Chrome: click the icon with 3 stacked dots on the far right of your toolbar More Tools select Developer Tools.

In Safari: Choose Develop Show Web Inspector from the top menu bar.
If you have any questions about this process, feel free to reach out to our 24/7 chat support.